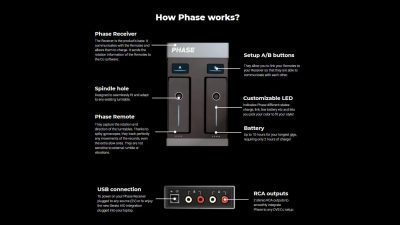 How to use it?
Phase is compatible with all DJ software and will smoothly integrate into your current DVS setup.
Thanks to our unique technology, Phase is compatible with any DJ software supporting DVS. Whether you're using Serato, Traktor, or Rekordbox, no need to change a thing: it will be a smooth addition to your current setup!
Get back the control of your performance.
Discover Phase DJ controller, the unique solution to mix hassle-free on any stage with turntables.
Performing with turntables has never been so good
Control your DJ software directly from your decks without using needles. Phase has been designed with DJs to provide a powerful and reliable way to perform with turntables on any stage.
Why you should use Phase?
From day one, we've been working closely with DJs all over the world to create a product that fulfills their needs as turntable DJs, in terms of accuracy and stability, like nothing else in the industry. Thanks to their help and feedback, Phase has become much more than just replacing needles.
You will enjoy the best stability with your turntables no matter the stage.
Jumping crowd is cool, but jumping needle? Not so much! We made sure that the Phase Remotes would be completely insensitive to any type of disturbances to offer the most reliable and stable setup for DJ
You will enjoy a top-notch accuracy, faster than any other DJ setup.
With an overall latency chain of less than 5ms, Phase technology has been designed to be much faster than a standard timecode setup. Whether you prefer mixing, scratching, or beat juggling, even your slowest movements are detected by the Remotes thanks to very precise tracking gyroscopes.
You will save money by buying a long-lasting gear.
Between changing the needles every 2-3 months, buying timecode vinyl, maintaining turntables, cables, and so on, it can quickly represent a substantial budget for DJs who perform regularly. You buy Phase once, you keep it for years. We made sure we could keep updating it, adding new features and improvements via firmware upgrades without the need of purchasing a new one. Also, to ensure the longevity of the unit, we designed the hardware to be robust, with materials that last for years, like aluminum reinforcements.