EUROPORT PPA500BT
The EUROPORT PPA500BT packs amazing power and sound quality into a compact, portable suitcase style PA system – that's fast and easy to set up. The PPA500BT's integrated 6-channel mixer has enough inputs for 2 microphones, 2 musical instruments, your favorite MP3 player and more – making it ideal for parties, schools, corporate and educational presentations, working musicians and even weddings. Built-in Bluetooth connectivity allows you to stream music from your smart-phone, tablet or other Bluetooth-equipped device.
Best of all, the PPA500BT is "wireless ready" for our high-quality ULM Series digital microphones, so you can become completely mobile. This powerful, 500-Watt marvel also features the crème de la crème of professional vocal effects from world-famous Klark Teknik – and our amazing FBQ Feedback Detection System for the ultimate freedom from feedback. We've even included a high-quality microphone, and all the cables and accessories you'll need, so you're ready to go – right-out-of-the-box!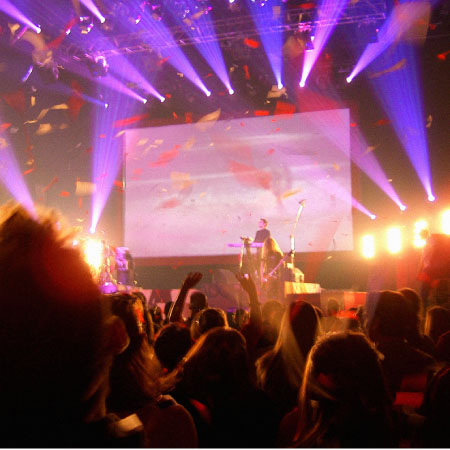 Small – but Mighty!
The PPA500BT might look small, and the super-light weight makes it amazingly easy to carry– but it's really BIG on power and features. The internal 500-Watt stereo amplifier is capable of driving the detachable loudspeakers to rich-sounding and room-filling volume levels. High-powered 8″ woofers provide punchy low-end and articulate midrange, and the 1.35″ aluminum-diaphragm compression drivers offer crystal-clear sonic reproduction.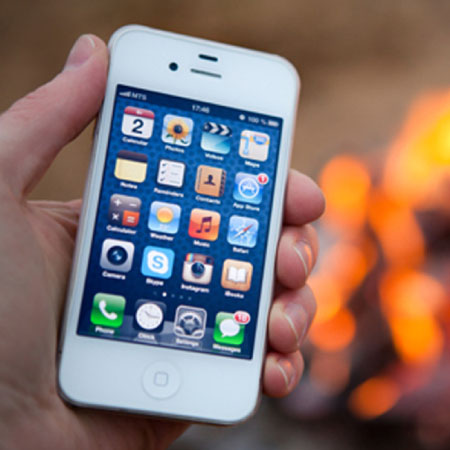 Big on Bluetooth Wireless Technology
We know your music lives on your phone, computer or tablet, so we've made it easy to access and play through the PPA500BT. With a simple swipe of your finger, you can instantly stream all of your favorite music from any device equipped by Bluetooth wireless technology, such as your iPad, iPod, iPhone or tablet. Streaming music via Bluetooth Technology opens up a tremendous amount of available content, such as a virtually limitless array of online radio-channels, multimedia providers and much more. Imagine that you have the whole PA at your fingertips; control the party from the dance floor or the background music comfortably from your chair. Simple, easy and amazing!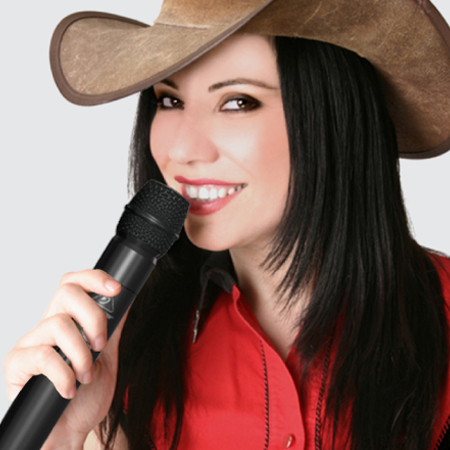 Own the Stage with Digital Wireless
Get wireless-ready with the built-in, dedicated connectivity of our ULTRALINK ULM Series wireless microphone system. Wireless gives you maximum freedom and mobility without the need to run cables. The highest-quality sound is provided thanks to the ULM's digital, license-free 2.4 GHz frequency spectrum.
The ULM wireless system combines professional-quality sound with simple setup and an intuitive interface for legendary audio performance right out of the box. Just plug in the ULM receiver "dongle", and instantly you have an exceptional wireless mic system. Freeing you from cables is the simply easy way to own the stage.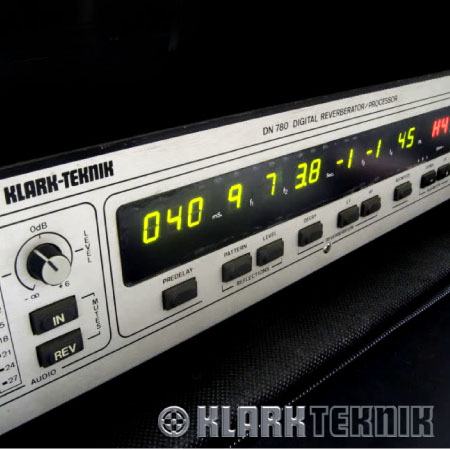 KLARK TEKNIK – The Reverb that Made History
Klark Teknik is recognized worldwide as one of the most prestigious British audio companies, with a 40-year pedigree and even a TEC Lifetime Achievement Award to back it up. The Company has designed and manufactured products for world-class artists, and their legendary DN780 reverb processor is considered by leading audio engineers around the world as the industry standard. Check out their website to learn more about Klark Teknik's legendary heritage.
Behringer is proud to incorporate custom-engineered Klark Teknik effects into their products. Featuring 100 world-class presets to choose from including reverb, chorus, flange, delay, pitch shift and many other amazing effects, Klark Teknik created the 24-bit, studio-grade effects engine for Behringer – to give your performance that truly professional finishing touch.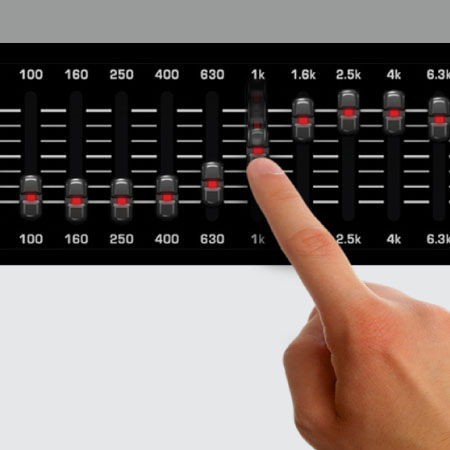 FBQ – Totally Feedback-Free
For more than 20 years, Behringer has designed and manufactured some of the most successful FBQ Feedback Elimination processors. Now you can own and enjoy the benefits of this technology, as we have integrated the revolutionary FBQ Feedback Detection System in this product, so your sound system is completely feedback-free, allowing you to focus on your performance. Utilizing an ultra-fast feedback detection system, this ingenious circuitry helps you recognize and tame feedback frequencies immediately. When feedback is sensed in a specific frequency range, the LED on the associated EQ fader illuminates, showing you at a glance which fader to lower to overcome the feedback. That simple!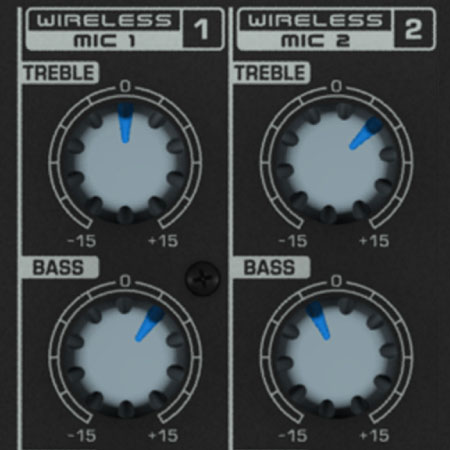 You are in Control
Channels 1 – 2 feature our high-quality Invisible Mic Preamps (IMP), which have been praised for their transparency and headroom. A Level control is provided with a Clip LED, so you can dial in the perfect signal level. We've also provided a Pad switch for those occasions when you have to contend with "hotter" than normal input levels. Additionally, each channel has its own dedicated two-band EQ (Bass and Treble), Pan or Balance (allowing you to place the signal wherever you want within the stereo image) and an FX level control.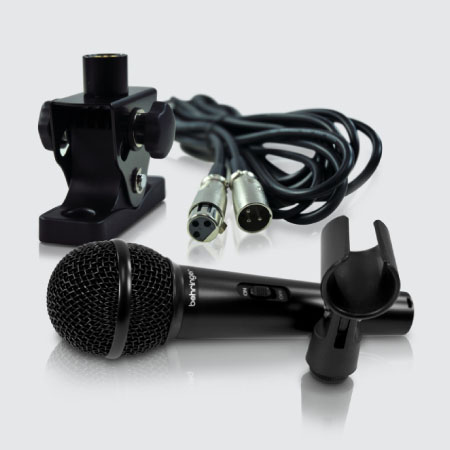 Everything You Need is Right Here
The PPA500BT's two high-quality, detachable loudspeakers and our great-sounding XM1800S microphone (with all the cables and accessories) complete this amazingly powerful and versatile portable PA system. Everything packs neatly away into one ultra-lightweight "take-it-with-you" suitcase-style format.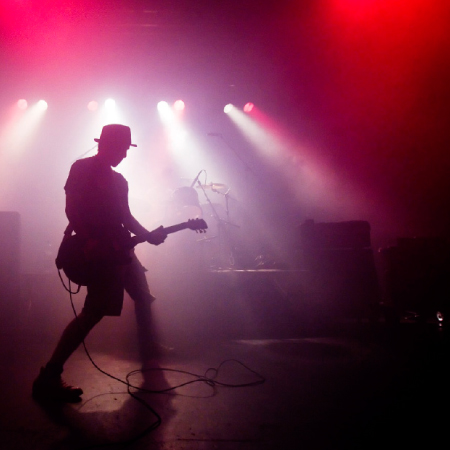 Powerful PA to Go
The EUROPORT PPA500BT lets you bring it all to virtually any medium to large gathering – a lightweight, 500-Watt "wireless-ready" 6-channel mixer-amplifier with +48 V phantom power that can handle 2 microphones, two stereo or 4 mono musical instruments and your favorite Bluetooth audio player. Plus, you get exceptional 2-band channel EQ, and a stereo 5-band graphic EQ with our revolutionary FBQ Feedback Detection System. See your Behringer dealer today, or get your PPA500BT online. The EUROPORT PPA500BT – the single trip, ultra-easy PA powerhouse!