Latency-free DSP monitoring
Slide 1 of 2
General Features
32-bit/192 kHz audio resolution
The industry-leading converters used in the UR-C series deliver exceptional audio quality, thanks to a maximum sampling rate of 192 kHz with 32-bit resolution. High-quality conversion is a crucial first step to a great audio production and, with the UR-C interfaces, Steinberg's designers invested a huge amount of time, effort and meticulous research in choosing the very best combination of components for outstanding analog to digital conversion. In addition to the great build quality of the UR series, the sound quality of the UR-C models has been refined by carefully adjusting components and incorporating 32-bit converters. These set a new standard for precisely and transparently capturing the subtlest nuances of every recorded signal, ensuring even the tiniest audio detail is maintained throughout the entire production process.
Superspeed USB 3.1 with USB-C
UR-C interfaces feature the USB 3.1 Gen 1 SuperSpeed standard, which provides fast, reliable and seamless connectivity to Mac and PC computers, as well as iOS devices. Together with the enhanced low latency delivered by our newly designed SSP3 chip and latest, most refined drivers, the UR-C series gives you peace of mind wherever you are recording. Also being compatible with USB 2.0 standard, you can enjoy the benefits of enhanced low latency with computers that do not provide a USB 3 connection.
Ultra-rugged build
Built to the most exacting standards, with a robust metal casing, the UR-Cs are rugged enough to withstand all the rigors of the road. Location recording, or just transporting your gear from one place to another, always comes with the risk of bumps, bangs, drops or scrapes. The exceptional build quality of these interfaces means you don't need to worry about the journey — they are tough enough to ensure that, when you set up to record, the high-quality internal components will work perfectly every time.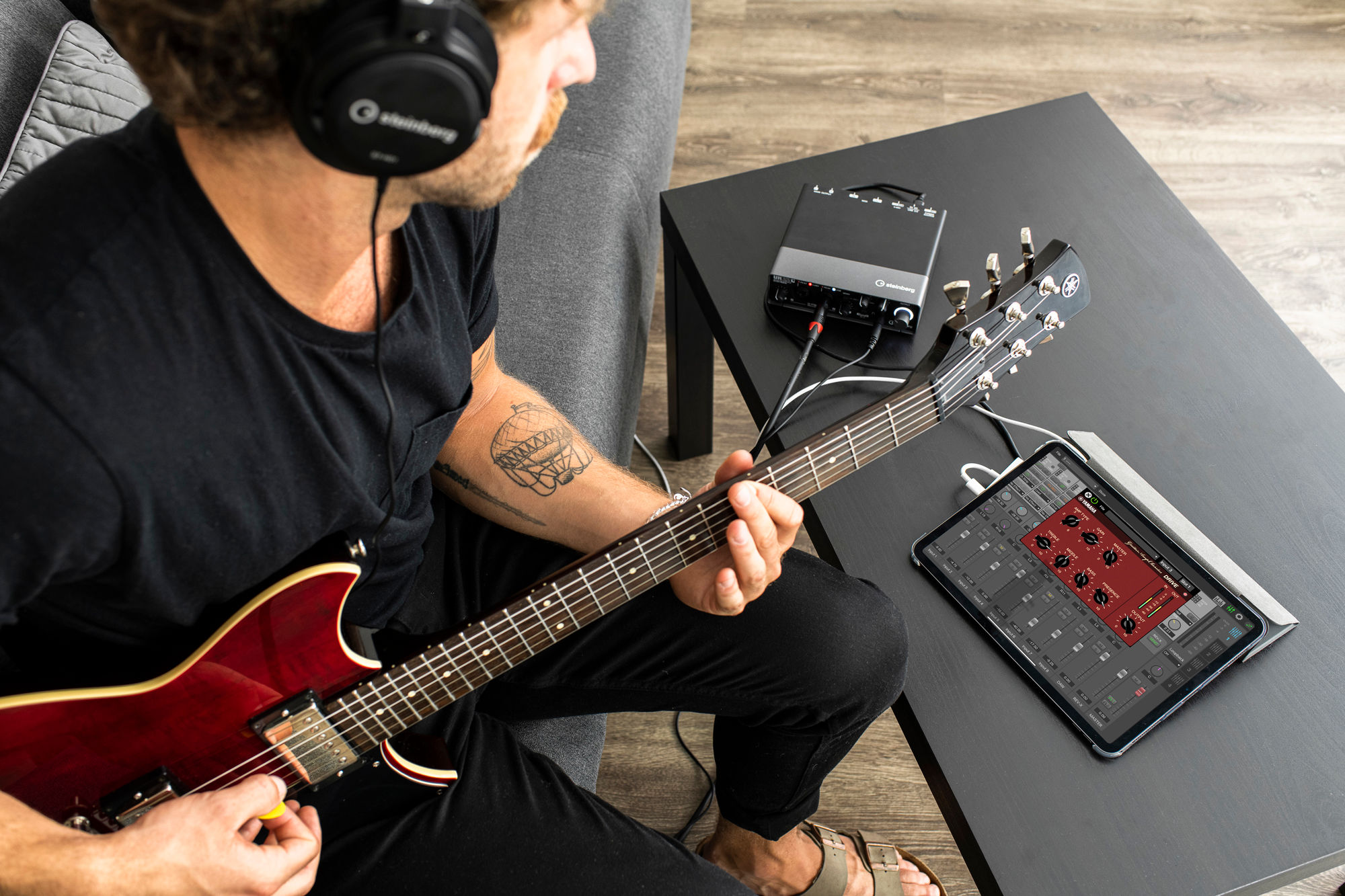 Latency-free monitoring with DSP effects
With built-in digital signal processing (DSP), UR-C interfaces provide zero latency monitoring with effects for every DAW, including straightforward control of all routings and settings. Powered by Yamaha's custom-designed SSP3 DSP chip, whether you use an Apple Macintosh, Windows PC, iPad or iPhone, you can enjoy all the benefits of dspMixFx technology. It offers latency-free monitoring, together with the highly acclaimed REV-X reverb, the Sweet Spot Morphing Channel Strip and Guitar Amp Classics for users of any DAW software. When using Cubase (Mac or PC), all of the advanced monitoring capabilities are fully integrated into the application's GUI by True Integrated Monitoring technology. You can choose to control the monitoring capabilities either from Cubase or the dspMixFx application, while the dspMixFx UR-C mixing application allows control of all effects when the interface is used with any other audio software.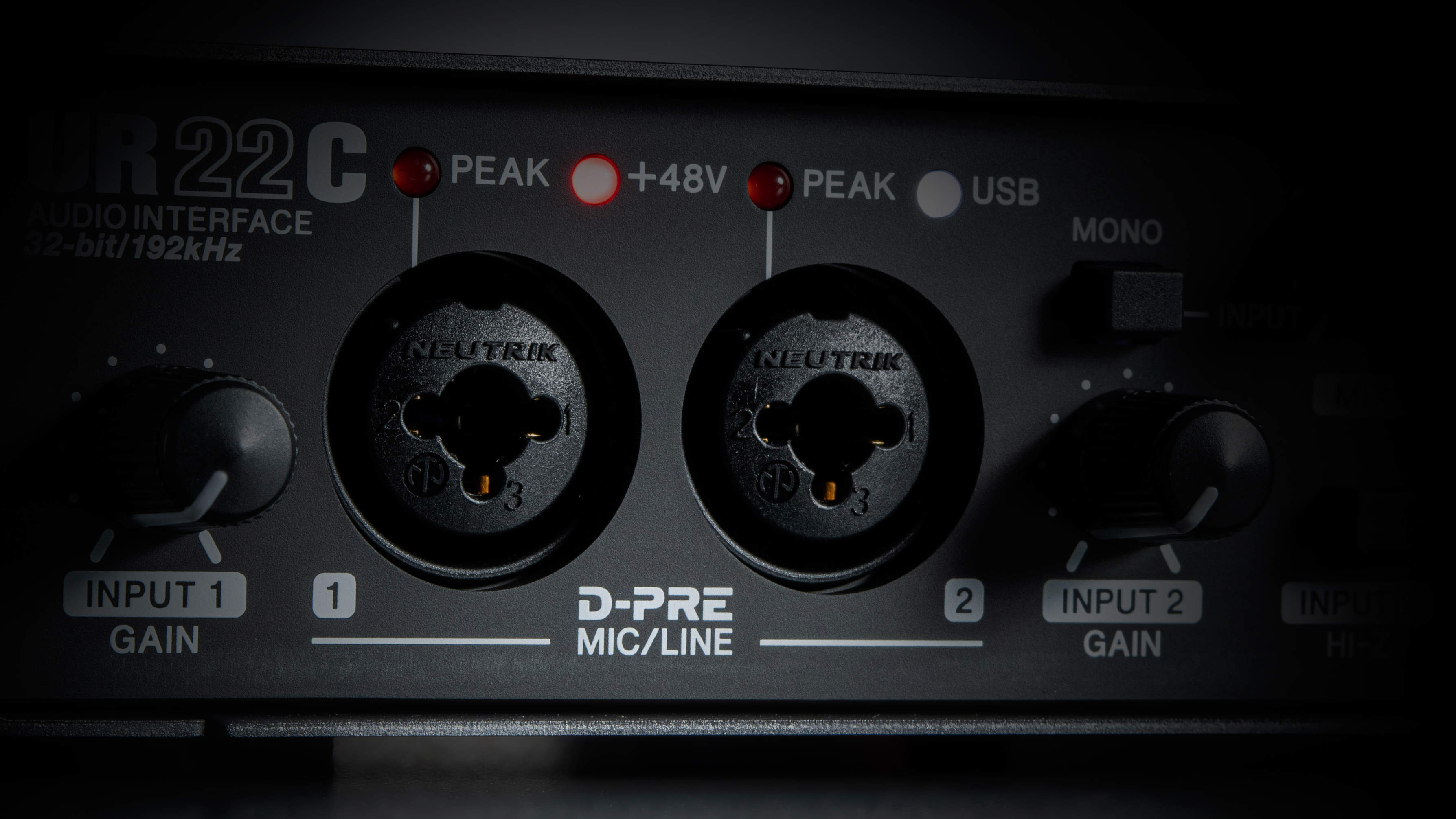 Class-A D-PRE mic preamps
The UR-C series features D-PRE preamps, offering stellar recording quality unmatched in this price class. Yamaha's highly acclaimed D-PRE preamps deliver truly transparent and beautifully detailed sound. A sumptuously detailed high end, immaculate dynamic response and rich, rounded low frequencies are the hallmarks of D-PRE, a very special, class-leading preamp which has been praised by industry professionals and media alike ever since its introduction. And to faithfully capture and replay that warm, transparent sound, the UR-Cs feature AD and DA conversion stages with up to 32-bit/192 kHz resolution.
Compatible with all major audio software
Our UR-Cs are compatible with all major audio software supporting the ASIO, Core Audio or WDM standard, providing a fully integrated, DSP-based monitoring setup wherever you are and with whichever DAW you use. Integrating seamlessly with Cubase and almost any other DAW, UR-Cs deliver latency-free monitoring with DSP-powered FX, via the onboard SSP3 DSP chip and latest dspMixFx technology.
iOS ready via CC Mode
Combining UR-C units with an iOS audio application such as Steinberg's Cubasis for iPad, provides you with a fully mobile audio recording solution. All UR-C interfaces automatically switch to Class Compliant (CC) mode when connected to an iPad or iPhone and the UR22C, UR24C and UR44C can even be bus powered by the USB-C equipped iPad Pro models. With Steinberg's Cubasis iPad app or other iOS audio apps, UR-Cs offer an effortlessly intuitive production experience on iPad or iPhone.
Loopback function for streaming
The Loopback function of the UR-Cs offers an easy way of streaming performances live to the Internet. Often used by hosts of live online broadcasts, when the function is active, incoming audio signals to the UR-C (such as microphone, guitar or line source) are merged with the signal coming from audio playback software like Cubase or another DAW inside the computer. The merged signal will then be sent back to the computer for online streaming via your software of choice. And with the onboard effects of the UR-Cs you can tweak your sound, for example adding some reverb when doing online karaoke.